Bill Chappell, Western Artist and Sculptor
(7/16/1919 - 9/22/2010)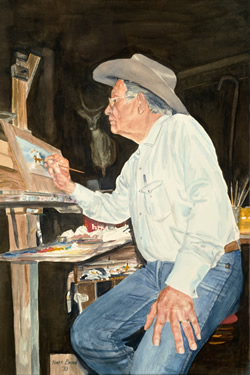 A cowboy is a multi-talented person. An artist, too, is versatile. Combine the two in the personage of Bill Chappell, and the result is authentic Western scenes captured on canvas and in bronze.
Born in 1919, Chappell grew up as a west Texas ranch hand and experienced all the hardships and joys known by cowboys of a passing era. His early range life and keen-eyed observation shaped his thinking and his art. Before the age of 10 he was making clay sculptures, paintings, and wood and leather carvings. His leather work expanded into saddlery, and he began making silver buckles and accessories.
His wife, Fay, was always a constant inspiration to his work. After their marriage, in 1939, Bill served in the Navy, and was put in charge of occupational therapy using leather crafts. After the war he returned to Seymour, Texas, where he owned and operated a saddle and boot shop until 1953. It was during this time one of his most outstanding works was done, a life-size leather carving of Will Rogers, which was shown in the Cowboy Hall of Fame in Oklahoma City for several years. It is now in the Will Rogers Memorial Museum in Claremore, Oklahoma. His leather carving and artistic skills were given special recognition when he was commissioned to make the first saddle for the World Champion Rodeo Cowgirl in 1951.
Armed with only a 6th grade education, Bill continually read about and tried new things. He became an avid oil painter after moving to Colorado in 1953. In 1965, he sold his saddle shop to began painting and doing bronzes full time. Both mediums found ready acceptance from collectors throughout the nation.
Bill and Fay's Christian commitment was continually demonstrated throughout through their interaction with people. They we were also very involved in developing new churches in southern Colorado after moving to Alamosa in 1953 with their children Linda, Bill and Gene.
After selling his saddle shop in 1965 to become a full-time artist, he and Fay divided their time between Colorado and Texas as he continued his work in art until his passing, September 22nd, 2010 at the age of 91.
Gallery in Hamilton, Texas
Magazine covers that featured his work:
Western Horseman
Paint Horse Journal
Craftsman Magazine
Feature articles in:
Western Horseman
Southwest Art
Art West
Numerous newspapers
Major resource book listings:
Buffalo Soldiers of the West, Carroll
Bronzes of the American West, Broder
Contemporary Western Art, Samuels
Cowboy in Art, Ainsworth
Encyclopedia of Contemporary Western Artists
Personalities of America
The Story of Leanin' Tree: Art and Enterprise in the American West, Ed Trumble
Who's Who in Western Art
Other accomplishments:
A life-size leather carving of Will Rogers, which was shown in the Cowboy Hall of Fame in Oklahoma City for several years.
Ten nationally-distributed Christmas/note cards by the Leanin' Tree Card Company of Boulder, Colorado.
Commissioned by Hardin-Simmons University in Abilene, Texas to produce the "Hardin-Simmons Cowboy" in bronze and painted the same in a rodeo setting.
Featured artist at the International Art Show at Caesar's Palace in Las Vegas
Beginning in 1980, for 19 years Bill donated a special painting to The South Texas Children's Home is Beeville, Texas, for their Christmas card.
Major art collections in which Bill Chappell's work appears:
Bob Rockwell, Corning, New York
Cid Richardson Foundation, Fort Worth, Texas
Maybe Foundation, Midland, Texas
Cullen Foundation
Houston Endowment
Rockwell Foundation of Houston
Parker Collection of Tulsa (Oklahoma)
The King Collection
Fine Arts Center of Pueblo, Colorado
Ben E. Keath, Dallas, Texas
Stanford Museum, Texas
Barnard's Mill (Fielder Foundation)
Museums
Will Rogers Memorial Museum, Claremore, Oklahoma
Museum of Western Art, Kerville, Texas
Buckaroo Hall of Fame Museum, Winnemucca, Nevada
Hamilton Museum, Hamilton, Texas
San Luis Valley Museum, Alamosa, Colorado