Bill Chappell, Cowboy Artist
Reprinted with permission from Cowboy Magazine™, Winter 2001 Edition, pp 36-37.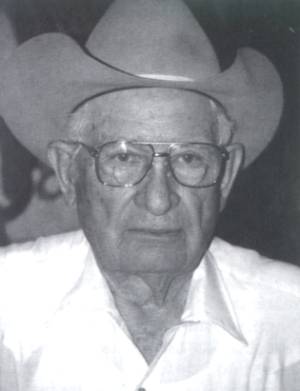 Bill Chappell learned cowboying back when you ate at a chuckwagon. He was born in 1919 and grew up on Texas ranches. He says, "I grew up when we used horses, wagons, and teams. That's all I knew."
At an early age, Chappell realized he wanted to be an artist, but it wasn't an easy choice. He explains, "I grew up in the Depression days, when you were encouraged to work. I think being an artist was like sneaking around and smoking pot is these days. You were expected to work. People didn't fool around, so being an artist wasn't encouraged for a livelihood."
He continues, "I didn't have any art supplies, just pencils and an old cheap box of Crayolas."
Chappell dayworked, made saddles, ranched, and became an artist, recreating the lifestyle that he knew best. He says, "I know everything about the equipment that a cowboy uses. It's kind of hard for me not to paint it or sculpt it, or say it somewhere." Chappell taught himself to make bits and spurs, started engraving metals, and continued to practice his drawings and sculptures.
Chappell married his wife, Fay, in 1939, and, after serving a term in the Navy, where he taught leather crafts, he opened a saddle shop in Seymore, Texas. He kept a few horses and kept riding and roping, and, in 1953, sold out and moved his family to a little ranch near South Fork, Colorado.
He says, "We kept expanding and going in debt all the time and working hard and paying for it."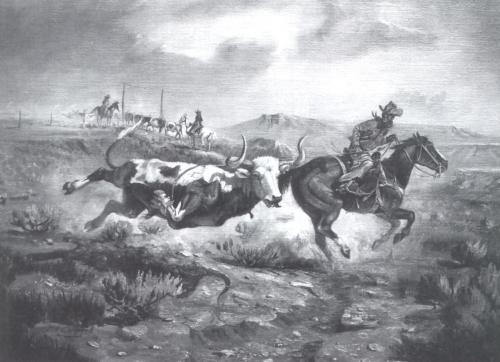 Then, in 1956, he was invited to an art show in Colorado Springs, Colorado. He had never shown his work before, but, after an Air Force Colonel bought five of his paintings, Bill was sold.
"I thought, 'This is for me. I'm ready to be an artist.'"
He began showing his art in a Colorado Springs gallery, on consignment, until a gallery in Taos, New Mexico, took all of his paintings as part of an exclusive agreement.
"It was good to be in that gallery," Chappell says. "I didn't like to be in this exclusive thing, but he sold everything I had."
Later on, he began showing his art at a gallery in Santa Fe.
Today, Chappell still owns acreage in Colorado, but his studio/home is in Fort Davis, Texas. He relates, "I've sold my horses. Got my pelvis busted riding a bronc 12 to 15 years ago. I've ridden some since then, but I'm not comfortable with it."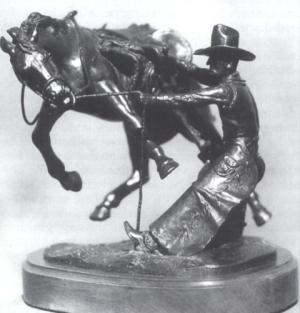 Chappell is comfortable with a paintbrush or sculpting knife, and he's most comfortable recreating what he knows best. He incorporates what he knows as a cowboy and rancher and saddlemaker in all of his work. He paints in water colors, oils, acrylics, mixed media, and draws with pencils and pen and ink.
Chappell says, "You've got to set a lot of traps in this business." And he still produces bronzes, and does some silverwork — buckles, pistol grips, bolos. He still builds a saddle now and then, but he no longer makes spurs or bits.
He says, "There's still something about being a cowboy and being out there in the early mornings and late evenings which so many people miss. I think that had a big influence on my paintings — the scene, the setting, the color."
Of his career as an artist Chappell says, "It's been good." And then he quickly adds, "It is good."
Bill Chappell can be reached at P.O. Box 292, Fort Davis, Texas 79734.
Copyright © 1997 by Range Writer Inc., P.O. Box 126, La Veta, CO 81055-0126.